Trash bin sizes to meet the needs of any cleanup project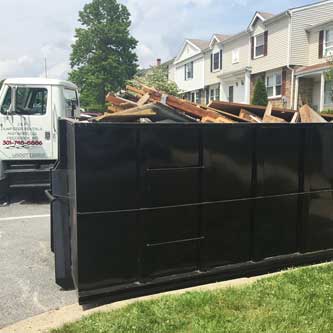 If you have never rented a dumpster before we are here to help! Our friendly customer service will help you figure out what size roll-off you need for your project. From scheduling your dumpster to dumpster placement, we are here to serve you and all of your disposal needs.
Our low flat rates mean that you can call us and instantly receive a quote on your dumpster rental.
Call us at (301) 471-2609 with any questions.


Dumpster sizes in Frederick and surrounding cities in Maryland
Which dumpster size is right for me?
Here are three key bits of information to consider:
The type of debris, or junk
The amount you need to dispose of
Space available for dumpster placement
We rent the following dumpster sizes: 10 yard, 15 yard, 20 yard and 30 yard roll off containers in and around Frederick, Hagerstown, Mount Airy, MD. Call us at (301) 471-2609 to see if we serve your city.
TIP: As a loose guide for predicting volume of junk or debris, a standard kitchen stove takes up about 1 cubic yard of space (3 ft. x 3 ft. x 3 ft.).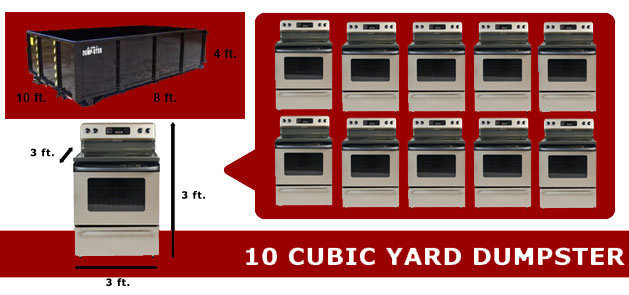 Dumpster Pricing
We have 6 Dumpster Sizes/Options to choose from
10 Yard

12' Long x 8' Wide x 3' High
Includes 1 ton - 2,000 lbs
7 day rental
Drop off and pickup included

15 Yard

14' Long x 8' Wide x 4' High
Includes 1 ton - 2,000 lbs
7 day rental
Drop off and pickup included

15 Yard – 2 tons

14' Long x 8' Wide x 4' High
Includes 2 ton - 4,000 lbs
7 day rental
Drop off and pickup included

20 Yard – 1 ton

14' Long x 8' Wide x 5 1/2' High
Includes 1 ton - 2,000 lbs
10 day rental
Drop off and pickup included

20 yard – 2 tons

14' Long x 8' Wide x 5 1/2' High
Includes 2 tons - 4,000 lbs
10 day rental
Drop off and pickup included

20 Yard – 3 tons

14' Long x 8' Wide x 5 1/2' High
Includes 3 tons - 6,000 lbs
10 day rental
Drop off and pickup included

30 Yard – 3 tons

17' Long x 8' Wide x 6 1/2' High
Includes 3 tons - 6,000 lbs
14 day rental
Drop off and pickup included
** $10 each additional day
**$81 each additional ton of Household Waste
** $90 each additional ton of Construction Material
---